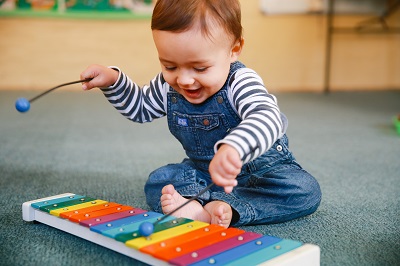 Want to nurture your child's inner musician? And Save $$$!
Use this  promo code: BONUS10            BOOK NOW
Researchers have shown the earlier your child starts using all that music wiring the better! And when you join Julie Logan Music class you'll see your child's creativity blossom and confidence soar as as we craft multi-sensory experiences to suit every age and stage.
You'll join a nurturing community of like-minded families who know every child is different and appreciate how our individually designed lessons inspire each and every group.
Your little one will feel safe in our musical sanctuary, nurtured by caring experienced teachers.
Discover the ins and outs of orchestral and percussion instruments, and fire up the brain power that is essential for all learning. You don't need to know anything about music…. just follow the leader and you're bound to be inspired!
Kinder teacher Naomi Isaacs and Sax Player, Paul Isaacs (Funky Do Da's) had this to say:
The Julie Logan Music program stands out from the rest, with it's unique sequence and excellent teachers who get amazing results. From Paul bringing our kids as little bitty babies on the lap through to Year 3 at school, we are so impressed with how this program has enriched our children's confidence to learn both in music and at preschool and school. While it's heaps of fun for all of us, it's incredible seeing how much progress they've made.  We love what's it's done for making music as a family at home!

Use this  promo code: BONUS10            BOOK NOW
Classes offered Mon to Friday: for times just scroll to bottom of this link: TIMETABLE
ENROL TERM 2 NOW for limited time only, families new to JLM will  save $10.00!
Use this  Promo Code: BONUS10            BOOK NOW
Term Fees with the BONUS10 discount are:
Babies 0-12 months  $126.00            1-7 years old:  $159.00
Plus you save another $19.00 for each sibling enrolled at the same time!
Share special time together as we show you how to nurture language and brain development through our research-based music  program.
We understand life with children doesn't always work to a timetable so once enrolled, you receive Home Resources
and can do FREE and FLEXIBLE MAKEUPS any time you need!
Limited vacancies. Offer closes 25th April, 2017 for families not previously enrolled in Julie Logan Music.
Numbers are capped and some classes are already full.
Don't miss out on your preferred class time:  register online and use promo code: BONUS10            BOOK NOW
Or call us, we love to chat!            Camilla:   0425 227 582
Stay up to date with our latest news and special offers.
(We promise not to spam you. Unsubscribe any time.)
This error message is only visible to WordPress admins
Error: No feed found.
Please go to the Instagram Feed settings page to create a feed.