0 - 3 years Scroll down for Times and Locations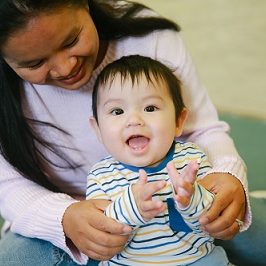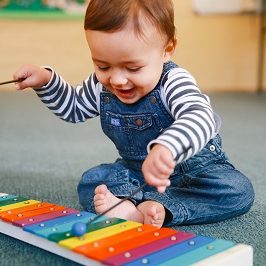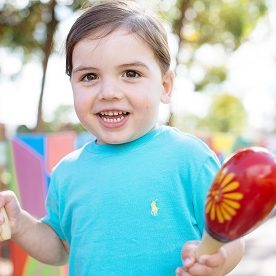 We love how your welcoming music community has not only enriched the lives of our kids, but we've also made very special friends!
van den Heuvel Family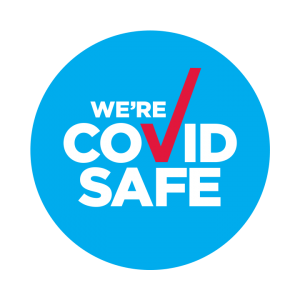 IN-PERSON and ONLINE ON DEMAND
Bonus Online Inclusions
1. Unlimited weekly access:  you receive a link for Online lessons, so you can swap days or do makeups as needed each week.
2. Pre-Recorded Bonus Activities in your own time – More Music in Minutes fun, plus Hands-on Crafty Science to enjoy whenever it suits.
3.  50% off holiday sessions
Babies  |  birth – 12 months
Share magical moments singing, cuddling, dancing and playing together, nurturing an extra-special bond. Learn from experienced teachers how to make the most of this critical period in your baby's development as we help you stimulate your baby's brain connections and make your family musical for life! Take home resources included. 45 min sessions. BOOK NOW
Tiny Tots  |  1 – 2 years
Relish this special time together and lay the foundations for all future learning. Loving adults are a child's best teacher and you'll be jumping for joy laughing and bouncing as you follow the leader, experimenting with musical patterns through games, movement, singing and instruments. Once your little one is up and walking, our teachers add layers of physical and verbal challenges that continues to help them learn in a lively, age-appropriate environment. Take home resources included. 45 min sessions. BOOK NOW
Toddlers  |  2 – 3 years
This is when we really get toddler brains and bodies syncing! Jump, jiggle, giggle and learn! You'll love seeing your child have fun, move, sing stories and manipulate toys and textures. Our unique, Australian program provides a fantastic foundation for successful participation in dance, daycare and preschool. In a very short time, you'll find you have a mini music teacher showing you what to do at home, as well as lots of great distractions for any 'tetchy times' throughout your busy day! Take home resources included. 45 min sessions. BOOK NOW
   We know sleep times change a lot at this stage, so you can move between classes as needed.
We love coming each week and all three boys sing, dance and clap the days away at home.
Thank you for all the fun and music skills!
The Jeffress Family
3 - 5 years Scroll down for Fees, Times and Locations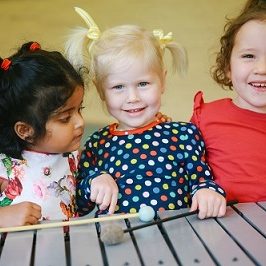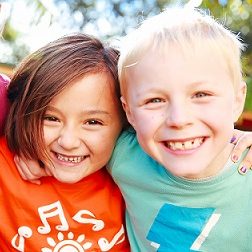 Level 1  |  3 – 4 years
These years are so precious and they go so fast! All our families value spending time enjoying musical interaction with their children which supports learning more complex aural and visual activities for follow-up at home. Growing ever more independent, children in this age group love being challenged but still learn best with the comfort of a caring adult nearby, so forget the gym membership and get a workout for both body and brain as we up-skill bilateral and creative movement together! You'll love how our carefully sequenced activities build your child's inner confidence and self-regulatory behaviour in a nurturing and imaginative environment. 45 min sessions. BOOK NOW
Level 2  |  4 – 5 years
(the year before school, drop-off class)Proud pre-schoolers attend these classes without an adult, ready to expand their social skills and musical understanding through more complex listening, singing, dancing and playing activities. Without even noticing how much they've learned, they'll be 'reading and writing' music by the end of this year. You'll be amazed at their rate of development over this year.  Kinder teachers constantly tell us they can pick our students within days of starting school, as they stand out from the pack, having such a secure foundation in literacy, numeracy and class social skills.  At Open Day, you'll see just how much they've learned each term. 45 min sessions. BOOK NOW 
Family Fun |  Birth – 5 years
Your whole family will love sharing the fun, but prepare to be amazed at your child's rate of development over this year, as every activity is designed to meet multiple developmental needs.  You'll learn lots of ideas to do at home, and great distractions for any 'tetchy times' throughout your busy day! Take home resources included. If your baby is under 12mths, email us for the special rate. Don't worry if you have to miss a class. You get FREE and FLEXIBLE MAKEUPS any time it suits. 45 min sessions. BOOK NOW 
Of all the extra-curricula activities we've done with our 3 children, your music program has been the most beneficial and I can't recommend it enough, your teacher's enthusiasm and dedication are infectious!
The Francis Family
6 + years Scroll down for Fees, Timetable and Locations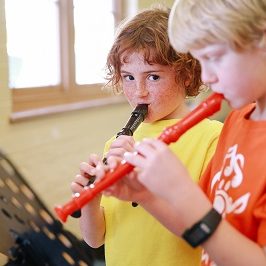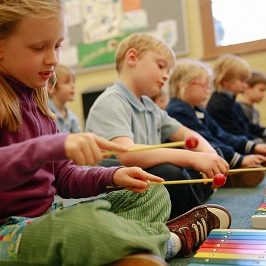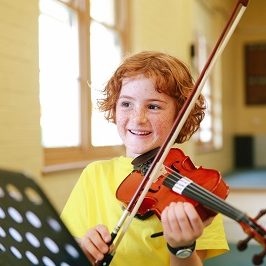 Level 3  |  Kinder or Year 1
Research shows that multi-modal learning through musical games and movement activities is essential for the development of children's coordination and creativity. Playing on glockenspiels gives children excellent ear and eye preparation for keyboard without prematurely putting pressure on separating immature fingers or the need to practice every day. We know they're just getting started at school, so we craft our lessons to balance relaxation with fun movement activities. As 'big schoolers' they also get a great sense of achievement very quickly from brief workbook activities reinforcing the children's developing ability to sing what they see (sight read) and write what they hear (melodic & rhythmic dictation). 45 min sessions. BOOK NOW
Level 4  |  Year 1 or 2
The rubber really hits the road for these students as we build on their known Level 3 concepts, further developing music literacy skills in solfege and rhythm writing, as well as more complex coordination games that build neural pathways for instrument playing. Children apply these skills to playing the recorder, preparatory keyboard and drumming activities. Conducting, creating and performing in parts feature strongly in this level. Our unique sequence develops in-tune singers who are confident to have a go in front of an audience across any setting, including their school classroom and assemblies. 45 min sessions. BOOK NOW
Level 5  |  Year 2 or 3
These students shoot ahead with sight-reading, musical dictations and arranging parts into accompaniments and ensemble performances becoming second nature to these experienced Kodaly musicians! They are on the alert detecting new intervals and rhythmic elements. Students have internalised phrasing and melodic line and quickly apply their musical knowledge to different instruments by having a term each learning keyboard, violin and drumming. This gives children a taste of playing different instruments before making a commitment to individual study. 60 min sessions. BOOK NOW
Thank you for introducing me to music in such a way that I have been able to use all the skills you have taught me to this day!
Jacob Dooley Age 16, Trombone, Newcastle Wind Orchestra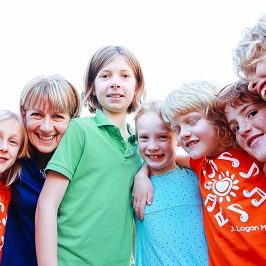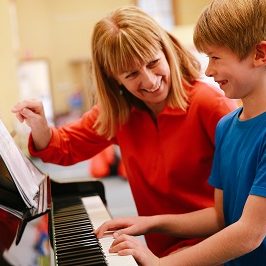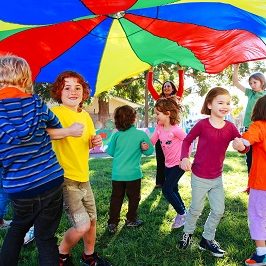 Song Crew
Song Crew isn't just another 'choir'. We specialise in nurturing young voices by teaching good vocal technique, sight-singing, harmony and performance skills through a program of singing, musical games and stress-free performance opportunities. Whenever students feel ready, they have the opportunity to solo in a safe and supportive environment and also to compere our end of year concert. We teach Kodaly-based music reading, sight-singing and harmony using a varied program of songs in unison and parts from all styles of music. 75 min sessions. BOOK NOW
FREE TRIAL AND FRIENDLY AUDITION
One on One Lessons
Piano, Voice, Violin and Recorder lessons are available on a one-on-one basis from 8 years to adult covering all styles from Pop/Rock to Classical, Improvisation, Audition, Exam Preparation and our Student Recital.
Julie Logan Music graduates will progress super quick but new students are always welcome, whether beginner or more advanced.
Our passionate teachers will create a personalized learning experience that unlocks your child's unique potential. Experienced teachers will work closely with you to motivate regular practice by inspiring your child with a variety of musical styles and performance opportunities.
No matter what your goal for your child, playing for pleasure or exams, that creative spark and love of music is something that will stay with them for the rest of their life. Email or call us so we can find the best day and time for you. BOOK NOW
Scroll down for Timetable

JULIE LOGAN MUSIC IS A CREATIVE KIDS PROVIDER
Upfront Per Term Payers – DON'T pay your tuition fee until you have sent us your Voucher details. We will adjust your child's Tuition fees and advise.  Vouchers cannot be accepted AFTER Tuition is paid.
PLEASE NOTE: Legislation prohibits us from claiming vouchers AFTER you have paid your fees.
We send multiple reminders but are unable to assist if you forget to claim in advance.

IN-PERSON
To care for all our community, if you have any flu-like symptoms, including a fever, cough, headache, sore throat or shortness of breath it is important you give in-person a miss and contact us.
Direct Debit Payment Plan Enrolments are committed to 12 months of classes.
Sign up for Auto Pay and pay 10 monthly instalments (or calculated based on months remaining).
Instalments will be charged  to your credit card on the 1st of each month from 1 Jan -1 Oct (or months remaining at time of enrolment) – We'll only charge the Admin Fee once per year,  a saving of up to $75 per enrolment + one off resource fee if applicable.
or Pay Upfront per term +$25 Admin Fee per term/ per registration + one off resource fee if applicable.  Annual Resource Fee applies to Levels 2-5 and Song Crew – see below.
Enrolling after Term has started? Please enter all your child's details then Contact Us to discount your per week fee, pro rata.
View our timetable in pdf format HERE
2021 Tuition Fees:
Age / Group
Per Class Fee

Direct Debit via Auto Pay 

     @ 10 x monthly instalments from 1 Jan – 1 Oct (or instalments calculated based on months remaining at time of enrolment)

+ $25 Admin Fee charged once per year per enrolment

Upfront per term

+ $25 Admin Fee per enrolment per term

Annual Resource Fee

Levels 2-5 & Song Crew

(paid upfront in first term of enrolment)

Babies 0-12mths   

(45 mins)

$19.33
$69.60 x 10
$174.00
N/A
Tiny Tots | Toddlers   |  Level 1

(45 mins)

$21.55
$77.60 x 10
$194.00
N/A
Level 2 | Level 3   

 

(45 mins)

$21.55
$77.60 x 10
$194.00
$30.00
Level 4 

 

(45 mins)

$23.78
$85.60 x 10
$214.00
$45.00
Level 5   

(60 mins)

$24.45
$88.00 x 10
$220.00
$45.00
Song Crew (only)

(70 mins)

$19.33
$69.60 x 10
$174.00
$45.00
Song Crew Package Special when also enrolled in Level 4/5 – Use promocode: scdeal  at the checkout (saving of $34)  Note:  only 1 x Admin Fee charged for combo enrolment
$15.55
$56.00 x 10
$140.00
$45.00
Individual Tuition

(30 mins)

$37.00
$133.20 x 10
$333.00
N/A
ADMIN FEE /  ANNUAL RESOURCE FEE        
A $25 Admin Fee applies per registration for ALL enrolments in Term 1 (or when initally enrolled during the year)  Direct Debit Monthly instalment payers save up to $75 in Admin Fees (only charged once per year)
Upfront Tuition payers pay a $25 Admin Fee per Term per enrolment – Note

: If a student enrols in two classes eg. Level 5 & Song Crew they will be charged $50 in admin fees per term.
A one off Annual Resource Fee applies to Levels 2 – 5 and Song Crew (paid with the Admin Fee on enrolment in Term 1 (or when initially registered during the year).
Babies, Tiny Tots, Toddlers and Level 1 will received complimentary Music Pack and bag.  You will receive your book pack in your first class PLUS the following Bonus Inclusions:-
Free and Flexible Make Ups in group classes during enrolled term
You get to choose your preferred mode of payment: Auto Pay (no Admin Fees per term) or Upfront Full Fee
Guaranteed Continuous Placement
Bonus Holiday/Parenting Sessions
Developmental Resource Books & Instrument (0-5yrs)
Musical Parenting Home Activities (0-5yrs)
School Age:
Multiple Tutors & Individualised Instruction
Class Musicianship Workbook & Home Music Books
2021 Resource Fees:
Age / Group
Resource Fee
LEVEL 2  –  Music Pack & 2 x Musicianship Books

$30.00

LEVEL 3 – Class Musicianship Books

$30.00

LEVEL 4

– 2 x Books; Class Musicianship and Home Recorder/Ukulele Books

$45.00

LEVEL 5 – 2 x Books; Class Musicianship & Home Piano/Violin Books, Multiple Tutors

$45.00

SONG CREW –  Musicianship Book, Sheet Music, Extra Public Performances and public speaking and  Medal.

$45.00
Ready to enrol?
Simply contact us online or you can go straight to our Book Now page.
Enrolling after Term has started? Please enter all your child's details then Contact Us to pro rata your fees
Thank you for gifting my children with a lifelong love of music. Your amazing program and all the teachers are truly inspiring!
Amanda O'Hara
Check out our 2021 Timetable or contact us and we'll help you find the class and time that's right for you 2021 Timetable  Locations
Receive 5% Sibling Discount for full term group lessons – SAVING OF UP TO $20 per child EVERY TERM.
2021 MUSIC TERM
Term Four  |  25 Oct – 17 Dec
Coming to your program for the past 7 years has been such a highlight in our lives.
My preschooler says it's the best thing she does all week and my eldest girl's flute teacher is amazed how far she's come in such a short time.
I know it's all thanks to the firm foundations of your program!
Kelly, Parent & Speech Pathologist
 Indigenous Acknowledgement: Julie Logan Music acknowledges the Australia           Aboriginal and Torres Strait Islander
peoples as the first inhabitants of the nation and     the traditional custodians of the lands where we live, learn and work.
Stay up to date with our latest news and special offers.
(We promise not to spam you. Unsubscribe any time.)